Posted by on November 8th,2008
Recently recovered from the archive at Castle d'Arrogance, details of Herr Döktor's  Vacuum Survival System, or 'Space Helmet', have just recently come to light; this object was produced at some, as yet, undetermined time (due to the peculiar and labyrinthine method of personal dating) as a means for 'personal safety while travelling the Ætheral Void between the Spheres, and for safe and comfortable promenading upon the Airless Planets of the Solar System' As you may be able to ascertain from the below pictures, this device is fully-functional, and no mere gimcrack or mountebank's caprice: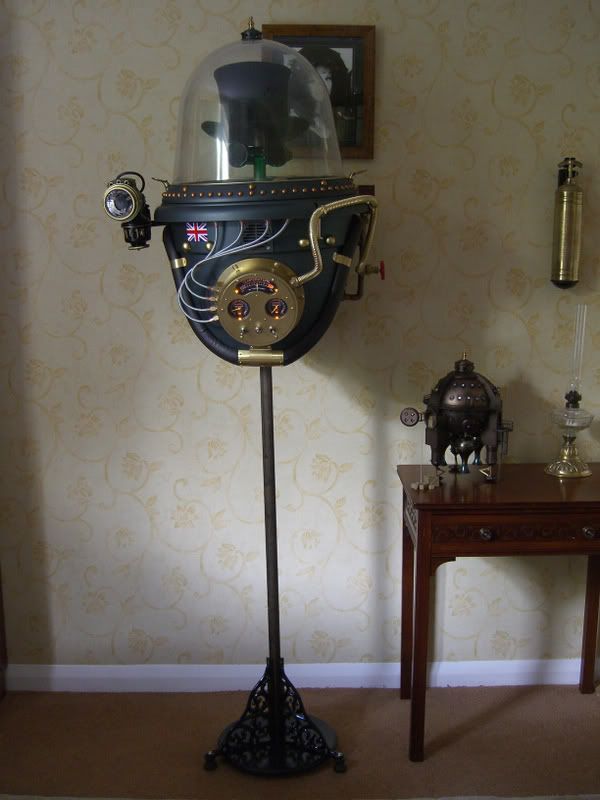 Notice the rugged, but stylish, construction: the blown glass pressure bell, the cast-iron body and the brass and copper fixings; note also the externally mounted lamp, bright enough to light the Stygian blackness of the darkside of the moon.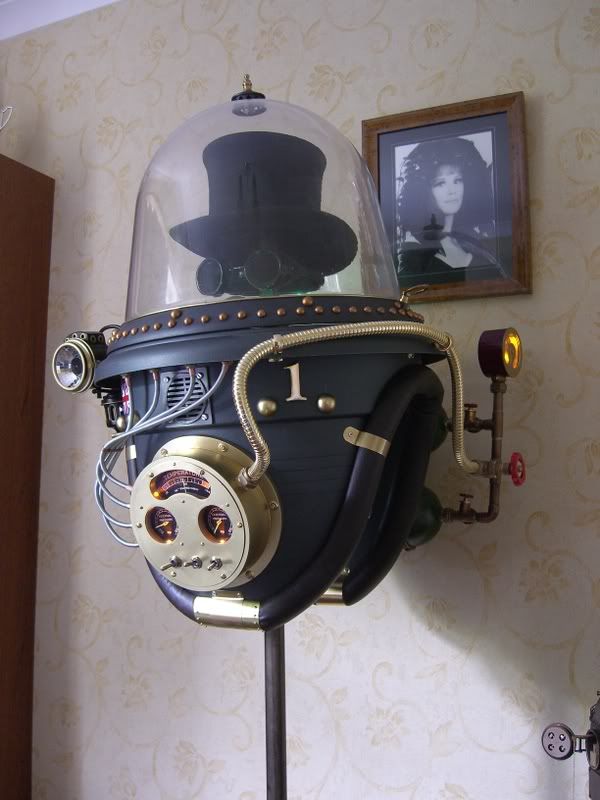 From the above picture, it may be seen that the chest mounted control box features temperature and internal and external pressure gauges, which are illuminated and may be read by any companion, in order to obtain whether the occupant is in any discomfort. Notice also the red spigot for regulating the compressed atmospheric gas mixture, and the illuminated Atmospheric Capacity (air) dial.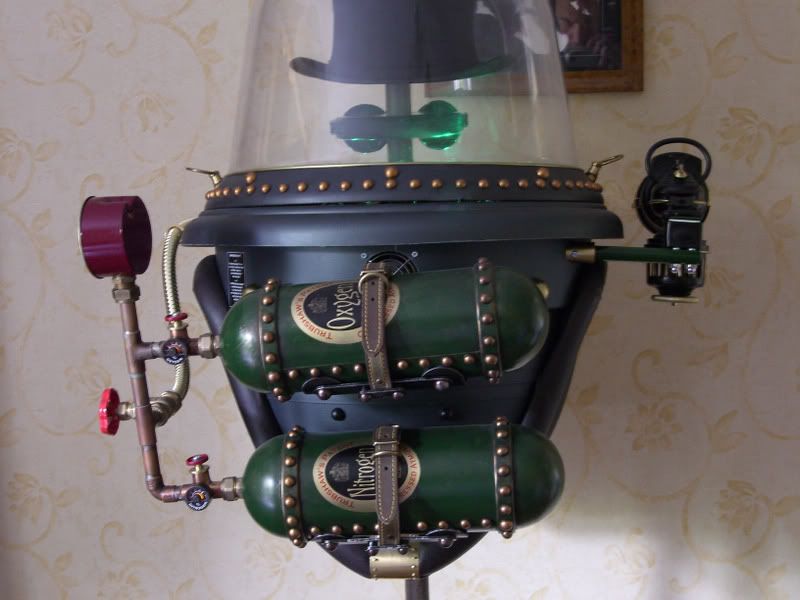 The above picture illustrates the mountings and  fitments of the compressed Oxygen and Nitrogen gases, as supplied by 'Trubshaw's Compressed Atmospheres', a company that proudly displays it's Royal Warrant, for services to the Crown.
Here we can see the smaller illuminated dials and spigots that control the mixture of Oxygen and Nitrogen, for the comfort of the pilot.
Note that the external gauges are replicated internally, so the Gentleman (or Lady) Æthernaut may keep an eye upon the various readings that their continued comfort relies upon.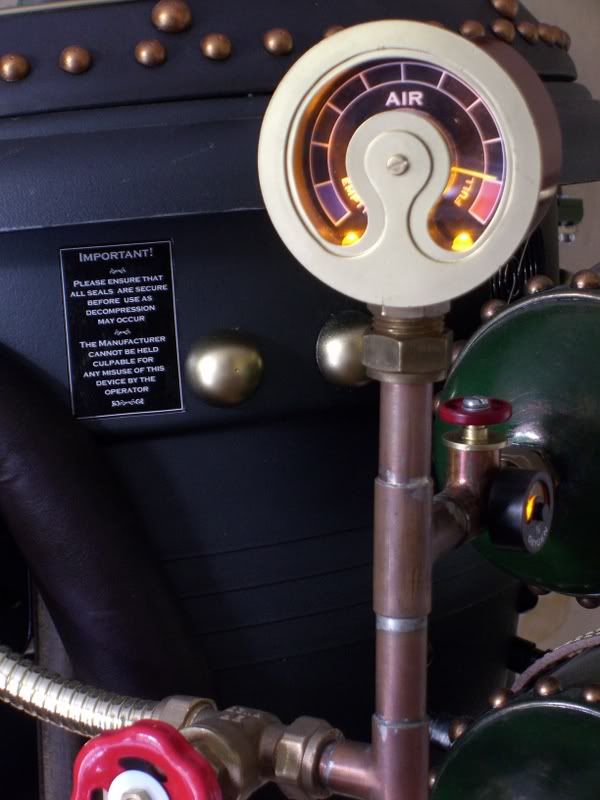 Notice, if you will, the manufacturer's warning:
IMPORTANT!
<
p style="text-align: center;">PLEASE ENSURE THAT ALL SEALS ARE SECURE BEFORE USE AS DECOMPRESSION MAY OCCUR THE MANUFACTURER CANNOT BE HELD CULPABLE FOR ANY MISUSE OF THIS DEVICE BY THE OPERATOR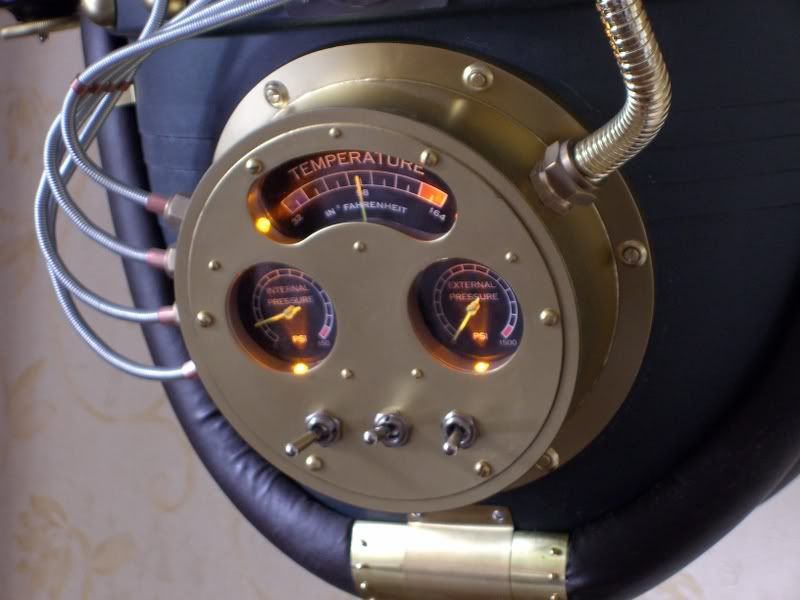 The switches on the chest control box operate the illumination of the various dials, so as to conserve power when strolling on the sunward side of any visited planet.
Now, gentle reader, with the archive being in such a horrific state we have been unable to surmise whether this device was employed in the visitation of any of Earth's sister worlds, although this one tantalising image was discovered misfiled in a sheath of marmalade recipes:
(seriously, though, a rather exhaustive thread about the building of this thing may be found here:
http://brassgoggles.co.uk/bg-forum/index.php?topic=7803.0
Thanks to Smaggers for the photo manipulation on the Mars picture!)